Soundfront Park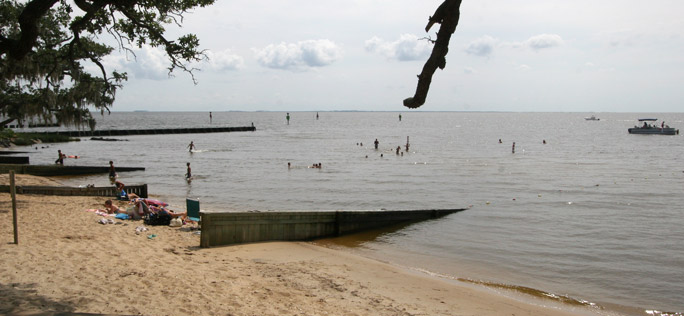 The Colington Harbour soundfront park is located on a peninsula next to the Clubhouse and swimming pool.  Surrounded by the marina on the South and by Roanoke Sound / Albemarle Bay on the North , the park features acres of sandy beaches, picnic areas shaded by live oaks, and tot lot equipment for children.
On the soundfront beach, a swim area designated with bouys and ropes offers a perfect summer retreat for the whole family.  With gently-sloping water depths and (normally) only light wave action,  the park beach usually presents an easier alternative for parents watching over younger swimmers.
Other amenities in the park include a large picnic shelter, bulkhead areas perfect for crabbing and fishing, and a fish cleaning station.  The picnic shelter may be rented by (or sponsored by) a Colington Harbour Association member, upon completion of a PAVILION RENTAL APPLICATION, payment of fee, and approval of the Association.  In addition, the Colington Harbour Association member must be current on the payment of their assessment dues.
Park Rules
The park facilities are open from dawn to dusk daily.
No alcoholic beverages may be sold in the park.
No GLASS bottles, containers, etc. are allowed in the park.
Playing of live or recorded music is discouraged since sound carries strongly over the water. If music is necessary, it must be kept LOW and cease no later that 9:00 PM.
No fireworks, firearms, or open fires are allowed in the park.
No dogs are allowed in the park.
No profanity, fighting or abusing the park with multiple vehicles.
NO VEHICLES ARE PERMITTED IN THE PARK
Colington Harbour Assocation
1000 Colington Drive Kill Devil Hills, NC 27948
(252) 441-5886
Sign-up for Colington Harbour Association eBlasts!